Posted by Tammy Sons on Feb 20th 2019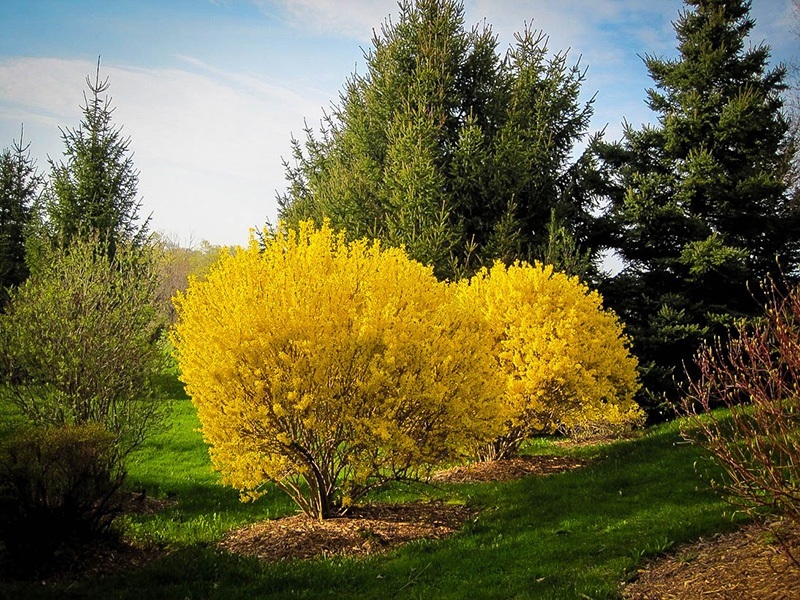 Forsythia Shrubs Enhance a Landscape
Forsythia shrubs are favorite flowering plants that consist of over eight species. Forsythia shrubs can be used to enhance any garden or landscape. The bushes of this particular plant can grow between 3-9 feet. Also, the Forsythia has gray colored bark, and the flowers usually bloom in early spring.
There are a variety of Forsythia shrubs that are commonly used for outdoor and landscaping purposes. The Forsythia is easy to grow as well as maintain which may contribute to their popularity.
Karl Sax Forsythia is a deciduous shrub with branches. The branches of this particular shrub do have some leaves. The Karl Sax Forsythia is considered an early bloomer and the flowers of this shrub usually appear before the leaves. Insects and other outdoor pests are generally not a threat to the Karl Sax.
Karl Sax is considered a moderate shrub with extreme beauty. This particular shrub can easily reach 5 feet in height.
The shrub of this flowering plant appears bright yellow. Also, this plant can grow between 6-8 feet in height. Although this plant usually looks in early spring, it can tolerate hot and humid weather. The Karl Sax Forsythia can easily add a touch of class to any existing landscape.
The Golden Bell Forsythia blooms typically in early summer, and it can live in both shade and sunlight. The Golden Bell Forsythia is yellow with four-petal flowers. Besides, this plant can thrive very well in sunlight or shade. The Golden Bell Forsythia can be cut and placed in a vase or container. Once the plant is cut, it can be displayed as an attractive showpiece.
The Goldilocks Forsythia is a newer type of Forsythia plant which usually blooms in late March or early April. The Goldilocks Forsythia has also been referred to as the "Gold Curl." This plant is recognized for its little shape and dark green foliage. Goldilocks can grow between 8-16 inches tall and can tolerate the cold weather.
Forsythia shrubs are unique plants that require little maintenance. Forsythia shrubs do not have to. However, fertilizer will without a doubt enhance their growth. The flowers produced from these shrubs are attractive to the eye, and once the flowers are cut, they will live up to two weeks.
Two of the oldest types of Forsythia are the Spectabilis and the Lynwood Gold. The Spectabilis and Lynwood Gold have large shrubs which sometimes exceed 5 feet in height. Besides, these plants produce beautiful hearty flowers that are a golden yellow.
The Forsythia can be purchased online through some Internet websites. These shrubs can be shipped quickly and should be planted soon after they are delivered for best results.