Posted by Tammy Sons on Feb 21st 2019
Maple Trees grow in many Soil Types including Hardy Zones, and their Growth Per Year has a bearing on Plant Description and their appearance. Growth at maturity can be over 100 feet. Maple trees are one of the most popular and well-liked shade trees in the heartland. There are many varieties, and some are smaller than 20 feet tall. However, most reach more than 100 feet. In the fall, the maple tree's leaves turn to red and give a panoramic view of the countryside and the neighborhood. These trees are synonymous with America, and most areas have at least two or three trees if not more. They don't take much care since they are very hearty and provide an enormous amount of greenery and shade in the summertime.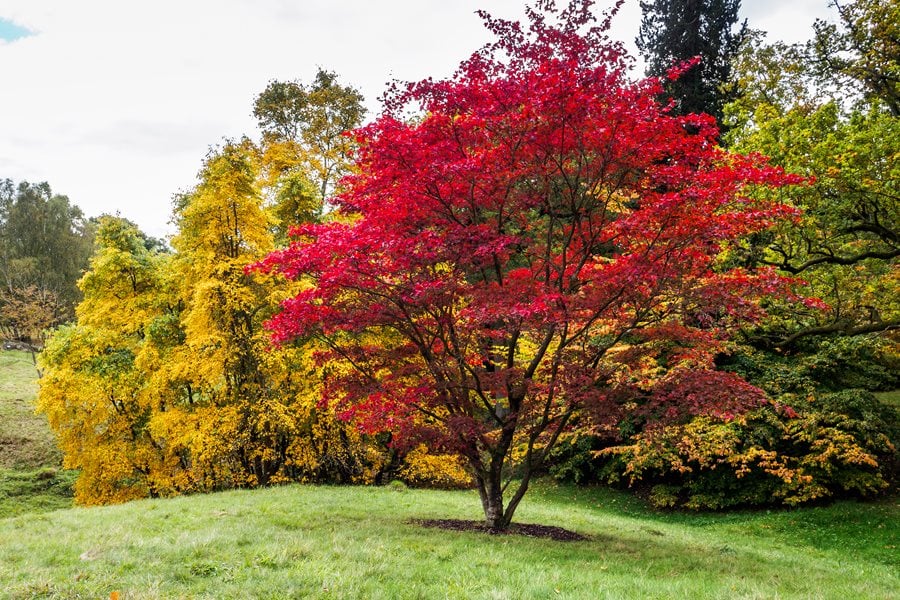 Even though, and it is well known, that the amur maple's leaves turn to red in the fall, the Japanese maple leaves turn a golden yellow even with reddish tones. It is a smaller tree and grows only about 15 feet tall and 12 feet wide. If a person would like to plant a smaller maple tree in their garden, a Japanese maple would fit in a yard easier than a considerable amur. However, large maples growing as much as 40 to 50 feet tall are common and reproduce easily. Their seedlings grow in almost all types of soil. It's easy to find a small tree on the side of the road or even in your backyard. If you do, you can always transplant it to the area you would like.
Another maple tree that fits into a yard easily is a columnar Norway maple. It sprouts green leaves for the summer that turn yellow in the autumn months. It does grow up to 70 feet tall, and its width is 20 feet so you'll need a lot of room to put Norway maple in your garden. This is a gorgeous tree because it seems to reach toward heaven and is very popular in the northern part of the United States. Its color in the fall draws a person into its mystique.
It is incredible that most maple trees have clusters of green flowers at the end of their shoots which stand upright rather than drooping down. Which gives it it's own character as if to say, "this is my turf, I'm part of the universe, this is my ground, and I will grow as wide and tall as I want to. I'm part of the world, and I'm here for you. Whether it be for shade in the summertime or whether it is the greenery and beauty of the autumn leaves in the fall, I stand here to make a statement." The shoots themselves pollinate and multiply themselves aided by the wind, insects, birds and other small animals. Once fertilized, the flowers start the new plant from the seed that grows its wings.